All our weaves are made to the new spacing requirements.
Made in high impact resistant Upvc.
Packs flat when not in use.
Lightweight design.
Can be used on any surface even indoors!!
One pack contains 6 poles and base.
Design allows two or more sets to be used together.
Comes as three interlocking sections so perfect for 2x2 training.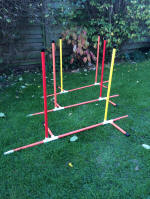 Pegs to secure Deluxe/Adjustable weaves
£1.50 a Pair

Our Weaves are sturdy but these will help when running fast large dogs.